The NHS changed in 2013 and it's pretty complicated. Here are some infographics on how the health organisations work together and which ones are responsible for what.
The NHS has always undergone restructuring and change throughout its history, particularly when new governments come into power. The Health and Social Care Act 2012 by the coalition government merged health and social care, along with setting out the biggest reorganisation of the NHS in its history. These changes came into effect in April 2013.
The Department of Health (DH) devolved much of its power to other organisations, also known as arm's length bodies, non-departmental public bodies, or quangos (quasi-autonomous non-governmental organisations). As a result, the structure of the NHS is now much more complicated than it has ever been, and it's difficult to know who's responsible or accountable for what out of the 23 different agencies working with the DH.
I've collected some graphics of the structure of the NHS in England below. Click on them to view them full size on their websites. For other parts of the UK there's a list at the end of this blog post.
This infographic by NHS Employers explains in a simplified way how the new NHS is structured, although it doesn't include all of the organisations.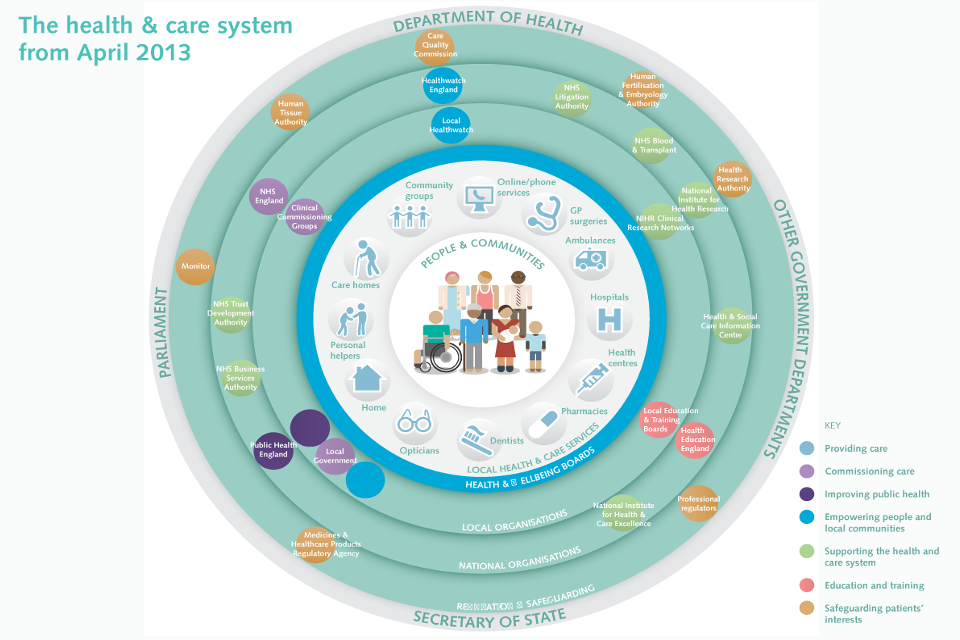 This handy interactive graphic by the DH shows the structure of the health & social care system and you can click on the different organisations for a summary of what they do.
An animation from the King's Fund explains how the new organisations work and fit together.
This SlideShare shows some good diagrams of the NHS structure before and after 2013, how the different parts of the NHS are funded, regulated, and held to account, along with healthcare professional training, NICE guidance, and ways the public can give their views to influence their policies.
A mind-boggling graphic by Insight Public Affairs demonstrates very well how complex the NHS really is now! It shows the flow of decision-making and accountability in the health & social care system.
Other parts of the UK